Heart of stone: kindle unlimited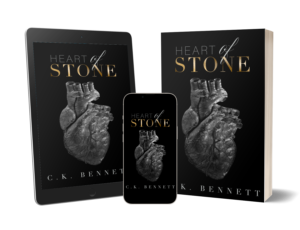 Hello, my loves!
Heart of Stone (Memento Mori, #1) has officially been enrolled in Kindle Unlimited and will stay there until 25 October, 2022 – maybe even longer. This means that if you're looking to read the book, you must either purchase the eBook on Amazon, or you must buy the paperback/hardcover. The paperback/hardcover is available several different places, such as Barnes&Noble, BookDepository, etc. A quick Google search will help you find out whether it's available at your preferred bookstore.
The eBook of Heart of Stone will be FREE to download from the Kindle store between 6 October and 11 October 2022.
Other than that, the re-writing of Skin of the Night (The Night, #1) is going really well. I'm 90 per cent finished with it at the time of writing this.
The new edition eBook will be released 30 September, 2022. I'm hoping the paperback will be available then, too, but I'll have to keep you posted on that.
As of now, you can pre-order the eBook 2022 edition of Skin of the Night here.
I hope you're all keeping well and making the most of summer (or winter).
Love you guys!
Claire x